Botox, Dermal Fillers, and Microneedling
At Spine and Joint Center, we believe that the mind and body are connected in how they impact your health. Recent studies have shown that increased confidence in the way you look has been known to encourage healthier habits, reduce stress, and improve physical and mental wellbeing. For this reason, we are beginning to offer non-surgical cosmetic procedures to help you achieve the appearance you want without the risks that come with surgery.
As of now, we are offering Botox and Juvéderm® injectable dermal fillers (which includes Juvéderm® and Juvéderm® Voluma™) and microneedling. To learn more about each service, visit our individual webpages:
Derived from botulinum toxin, Botox is a drug that when injected into muscles, can prevent nerve signals from causing muscles to contract. This results in the affected areas being more relaxed and smooth, which reduces the appearance of wrinkles that are created when making facial expressions. The premium brand we use—BOTOX® Cosmetic—ensures optimal effectiveness and minimal discomfort.
Click here to learn more.
Dermal fillers involve the injection of hyaluronic acid or synthetic material beneath the skin, helping to plump and restore areas that have lost volume or begun to sag due to the natural aging process/scarring. The hyaluronic-based fillers we currently offer are Juvéderm® and Juvéderm® Voluma™, which can address these concerns and leave you with a fuller, more lifted look.
Click here to learn more.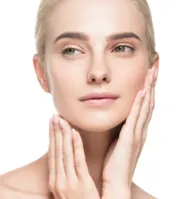 Microneedling is a non-surgical technique that uses very thin needles to create minor punctures in the skin, stimulating its natural healing process and increasing collagen production. Microneedling sessions using AQUAGOLD® fine touch™ as the microinjection device allows for maximum penetration of skin treatments (like Botox and healing serums) while providing a more defined, radiant look.
Click here to learn more.