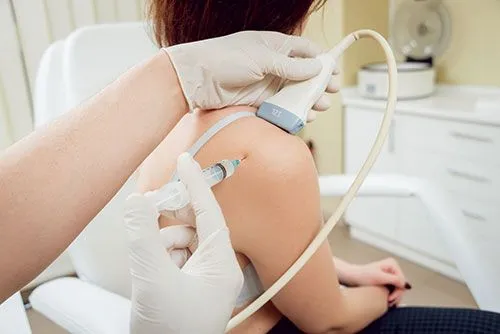 We offer injection therapy for both joint and back pain. We perform a variety of joint injections and spinal injections including epidural injections, facet injections, nerve block injections, and radiofrequency procedures. We perform all the standard pain management injections using the latest, state of the art imaging equipment including ultrasound guidance and fluoroscopic X-ray. The imaging guiding technology is used to get the medication precisely where it's needed.
Types of Injection Therapy
Here is a list of injection therapies we provide and we pick a few to illustrate its effectiveness.
Discogram procedure
Epidural injection
Facet injection
Intra-discal injection
Nerve Block injection
Occipital nerve injection
Prolotherapy injection
PRP injection
Radiofrequency procedure
Steroid injection
Trigger point injection
Visco Supplementation injection
What Is Intra-discal Injection and How Does It Work?
Intra-discal injections can be used for both diagnostic and therapeutic purposes. When used in diagnostic purpose, it can help physician to identify the source of your back and sciatica pain. When used in therapeutic purpose, a small amount of contrast dye is injected in your discs and joints to make sure the medication flow goes to the intended location while using X-ray guidance. The full effects of the treatment can take two days to two weeks to work.
What Is Radiofrequency Procedure and How Does It Work?
Dated back in 1931, Radiofrequency has a long history of being used to treat chronic pain. Radiofrequency ablation is a non-surgical, minimally-invasive pain treatment. Produced by radiofrequency waves, heat is directed to a precise location of your body and nerve tissue. By carefully destroying selected small pain nerve fiber endings (that carry pain signals to the brain), the procedure can reduce pain. According to research, approximately 70 percent of people who undergo the procedure will experience a reduction of pain for a prolonged period of time.
What Are Visco Supplementation injections and How Do They Work?
Visco Supplementation injections are often used to treat arthritic knee pain. Hyaluronic acid or hyaluronate, a gel-like substance is injected into the arthritic joint to lubricate the joint while reducing inflammation. It takes up to two months to see the full effect of the injection. If needed, patient can receive another injection after six months.
What Is PRP Injection and How Does It Work?
Platelet Rich Plasma (or PRP) is a mix of concentrated platelets and serum given as an injection to stimulate healing and healthy tissue regeneration at a site of injury. Typically, damaged tissue areas (like tendons and cartilages) take much longer to heal because they have poor blood supply. PRP Injections provides the damaged tissue with essential nutrients and growth factors, stimulating an accelerated tissue repair and regeneration process. PRP injections can be applied to treat both spine and joint pains.
---