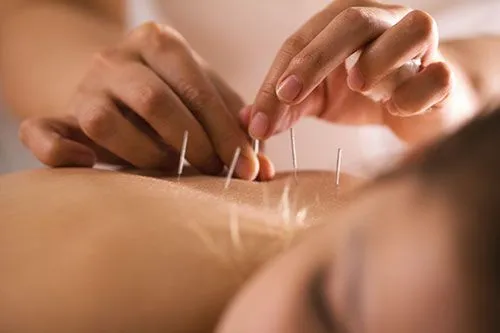 At Spine & Joint Center we treat the patient as a whole person rather than just a set of symptoms. Practicing acupuncture in Bergen County New Jersey, our approach is to treat back and spine pain conservatively and effectively. By first focusing on non-invasive treatments, such as medical acupuncture, we can avoid surgical procedures that can sometimes result in an unnecessarily long and difficult recovery process
Medical Acupuncture
Medical acupuncture is a term used to describe acupuncture performed by a medical doctor who has also had thorough training in acupuncture as a specialty. Trained in acupuncture and traditional Chinese medicine at the Stanford University School of Medicine, Dr. Noto knows how and when medical acupuncture can best supplement western non-invasive treatments. Using small fine needles, infra-red heat, pulsed electromagnetic (PEMF) and electric stimulation, the acupuncture session promotes the body's natural healing ability.
How Does Acupuncture Work?
Acupuncture is an ancient Chinese medicine that has recently been adopted into Western medical practices. As result of its growing popularity and its effectiveness at treating pain and enhancing overall well-being, it is often one of the first treatment of choice for certain medical conditions
The theory of acupuncture deals with the energy of the body and how it flows throughout the body and regulates the human body's function and healing. A disruption of the human body's energy from injury or illness can lead to pain and imbalance, and it can also be the source of the problem. Acupuncture is most commonly used to treat back pain but it also used for joint pain, neck pain, back pain and headaches. Acupuncture is also increasing in popularity in treating issues such as anxiety, depression, obesity, infertility, insomnia and headaches
What Does an Acupuncture session Feel Like?
Because the needles are thin and gently inserted, you often don't feel it being inserted. Once a needle reaches its intended depth, you might feel a mild, dull ache, a tingling sensation or a feeling of warmth. These are positive responses indicating the acupuncture point is being activated. Patients new to acupuncture can be assured that it is safe and not overly painful. The needles can cause small reactions in the body that can help relieve pain and tension and restore energy balance, release endorphins all while boosting the blood circulation
How Long Does Each Treatment Last?
Our acupuncture sessions performed in Bergen County NJ usually last for 45 minutes. The needles usually are kept in place for 30-40 minutes. During this time, you lie flat and still. It's often a very relaxing experience and many people often fall asleep during the treatment.
Results are generally experienced after just one to two sessions and benefits are often immediately noticeable in a weeks time.
---